Squeeze SWITCH™
Switching to a lower rate
just got easier.
SWITCH™ helps you get your new policy,
and assists with canceling your old one!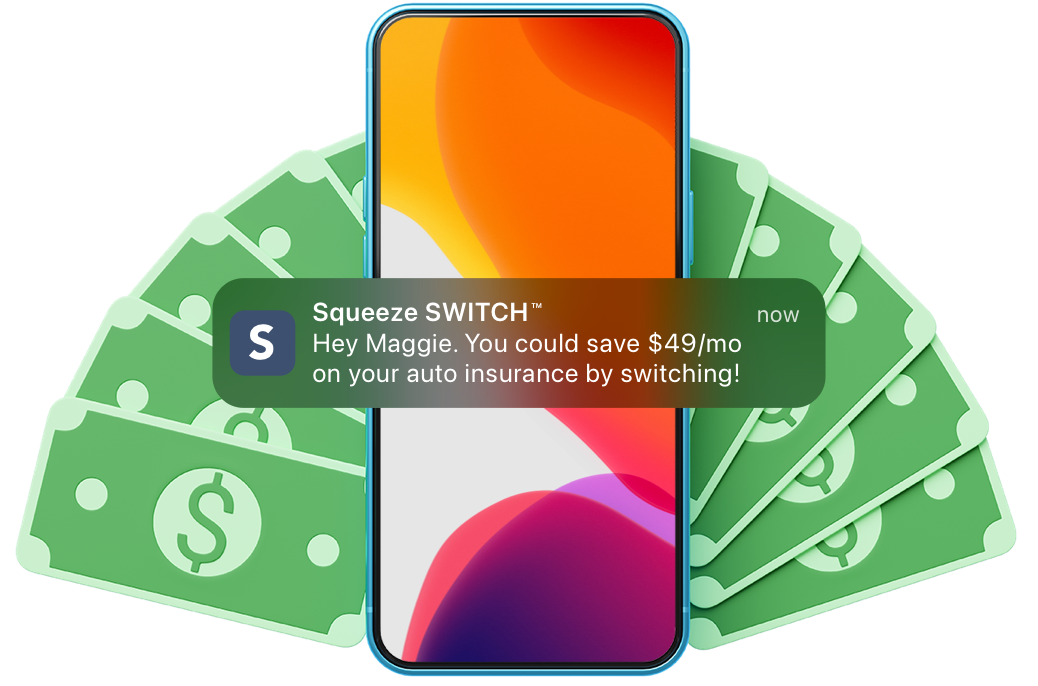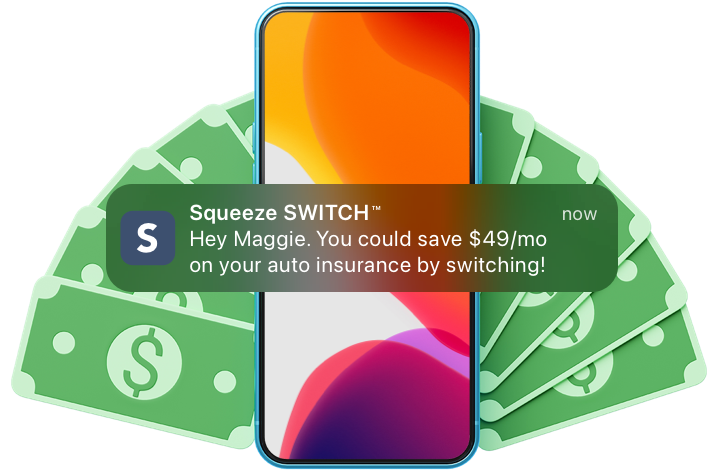 Get on the road to automatic savings with Squeeze!
Accredited by the Better Business Bureau
Avoid spam and unwanted sales calls
Customized quotes from trusted carriers
Automatic re-shop to continually find the best rates
Why you should shop for auto insurance
The national average cost for auto insurance increased by 19% over the last 4 years.
The most expensive states for auto insurance are: Louisiana, Michigan, Florida, New Jersey and New York.
Squeeze automatically re-shops your auto insurance each time your policy is up for renewal. Ensure you always have the best coverage at the lowest rate.
What does auto insurance cover?
Having the right auto insurance keeps you safe while on the road.
What's more, if you're in an accident, it can prevent you from financial trouble.
The type of coverage you choose and your limit amounts will affect how much you pay for auto insurance and how much out-of-pocket costs you'll incur. Choosing your coverage and limit amounts wisely will ensure you have enough coverage at an affordable rate.
There are several types of auto insurance coverage options.
Liability
Liability
There are two types of liability insurance coverages: property damage liability and bodily injury liability. Property damage liability covers costs to repair another person's vehicle that you damaged. Bodily injury liability covers the medical costs of the other driver or passengers.
Uninsured/Underinsured Motorist
Uninsured/Underinsured Motorist
This type of coverage provides payment for medical bills or repairs to your car if an uninsured or underinsured driver hits you or you're the victim of a hit-and-run accident.
Collision
Collision
When you're in an accident, collision coverage will cover costs to repair your vehicle after an accident. This coverage isn't always mandatory unless you have a leased car or currently pay a car loan.
Comprehensive
Comprehensive
If your vehicle is vandalized or experiences a significant disaster and requires repair, comprehensive coverage helps pay for repairs.
Personal Injury Protection
Personal Injury Protection
Personal injury protection, or PIP, kicks in to pay for expenses sustained after an accident that may include child care or lost wages. Personal injury protection may also cover some medical expenses. It's not required in every state.
Medical Payments
Medical Payments
If you require a visit to the hospital or need X-rays or surgery after an accident, medical payments coverage, also referred to as medpay, pays the costs. This coverage also helps pay for medical costs for passengers in the vehicle if you're in an accident.
When to shop for auto insurance
If you want to save money on your auto insurance, it can pay to shop around. Each insurance company uses a unique formula to determine a customer's rates, and each one offers their own set of discounts.
When you compare auto insurance quotes, you are making sure you get the most coverage at the lowest rate. It makes sense to shop for auto insurance if your rate has gone up. But there are other good times when it's worth it to get new quotes.
Relocating to a new ZIP code
Purchasing a new car (or new to you)
Paid off a car loan
Improved your credit score
Reduced credit card debt significantly
Adding a teenager (or any other driver) to your policy
Married or divorced
Started a work-from-home job
Enrolled in college full-time
Unhappy with your current company's service
How are auto insurance rates determined?
There are several factors that go into how an insurer determines your rate. The most common are location, your age, driving record, credit score, vehicle type, number of miles driven and the types of coverage you have.
Coverage Options
Coverage Options
The type and amount of coverage you choose will greatly affect your overall rates. Your policy may include liability, collision, comprehensive, uninsured motorist and personal injury protection components. In addition, the lower your deductible is, the higher your rate will be.
Vehicle Type
Vehicle Type
The car you choose can impact your auto insurance greatly. The insurance company will also factor in the year of the vehicle, how at risk for theft that specific make/model is, the cost of repairs, and the overall safety rating. Also, vehicles with a history of higher claims tend to claim higher rates.
Driving Record
Driving Record
If you have a clean driving history — no accidents, no tickets — you'll be granted the best rates an insurance company can offer. Many insurers also offer a discount if you've been accident-free for multiple years in a row.
Credit Score
Credit Score
It may seem like an odd connection, but many companies consider your credit score when determining rates. The thought is that individuals with lower scores are higher-risk customers.
Age
Age
Typically, younger drivers will pay higher rates because of their higher risk of accidents and limited driving experience.
Miles Driven
Miles Driven
Simply put: The more you drive, the higher your rates will be. Consider commuting or trading in your vehicle for a hybrid model.
Location
Location
Where you live has a large impact on how much you pay for auto insurance. Insurers take into consideration statistics on the number of claims, accidents, and crime levels of any given ZIP code.
Auto Insurance facts
$1,548
average annual auto insurance premium nationally
$9,282
average cost to own and operate a vehicle
$379
average premium increase for a single speeding violation
$748
average annual savings of Squeezers
$1,548
average annual auto insurance premium nationally
$9,282
average cost to own and operate a vehicle
$379
average premium increase for a single speeding violation
$748
average annual savings of Squeezers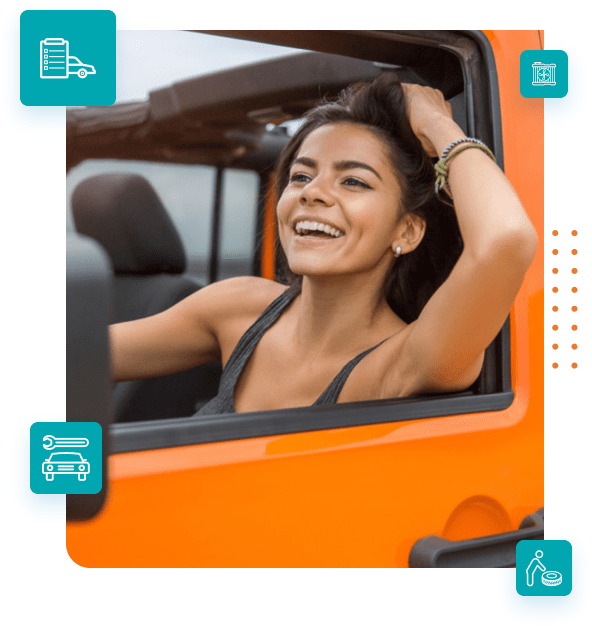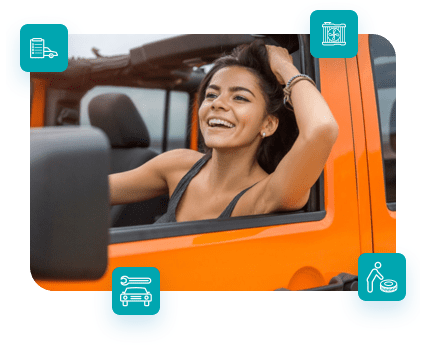 Squeeze Knowledge Center
The Best Auto Insurance in 2021
Auto insurance is a bill that everyone deals with. And finding the best auto insurance company means getting the best coverage at the lowest rate. Insurance companies will take into consideration your age, ZIP code, and the vehicle you are insuring to determine your rates. However, four different companies might give you vastly different quotes.
We shop trusted national and regional insurance carriers

— so you don't have to